Chapter 1 - Dream is Destiny
(Two kids -- a girl and a boy -- playing a game of "frog")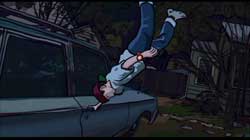 Um, pick a color.
Blue.
B-L-U-E. Pick a number.
Eight.
1, 2, 3, 4, 5, 6, 7, 8. Pick one more number.
15.
1, 2, 3, 4, 5, 6, 7, 8, 9, 10, 11, 12, 13, 14, 15. Pick another number.
Six.
Okay. "Dream is destiny."
***
(The Tosca Tango orchestra is rehearsing in a house)
Rock out. Rock and roll. Go strings. Dig in. Sara, will you try that, the thing you asked me about?
Yeah.
Will you try it a little more subdued?
Okay.
Vibrato. Just try it and see what you think. But what I want - I mean, I want it to sound rich and maybe almost a little wavy due to being slightly out of tune.
Do you want it, um -
I think it should be slightly detached.
That's what I was wondering.
Yeah, yeah, you got it.
Okay, pick up to 20, please.
Erik, this is a pickup to 20.
Okay.
1, 2, 3.